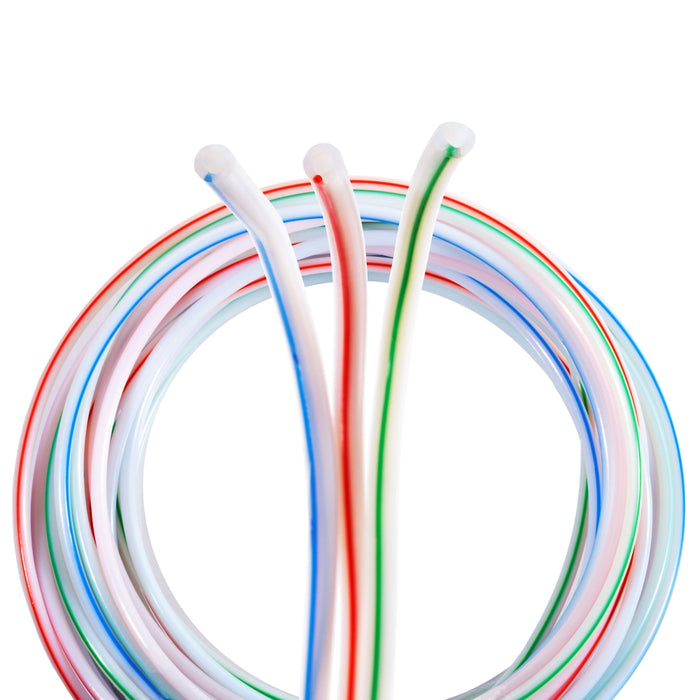 PTFE Striped Tubing
per foot
Save

Liquid error (snippets/competitor-badge line 32): Computation results in '-Infinity'

% compared to on Leading Competitor's website.
Description
PTFE Striped tubing is a great way to easily identification of lines carrying specific fluids or intended for specific purposes. It carries the same properties as standard PTFE, but with a stripe marking on the outside of the tubing that comes in a variety of colors. The band resists wear and deterioration from exposure to high temperatures and chemically aggressive environments. 
Additional Information
Sizing
| | | | |
| --- | --- | --- | --- |
| ID | Wall | OD | Burst (75 F) |
| 0.031" | 0.016" | 0.063" | 1513 PSI |
| 0.063 | 0.031 | 0.125 | 1500 |
| 0.063 | 0.062 | 0.188 | 2000 |
| 0.125 | 0.031 | 0.188 | 967 |
| 0.125 | 0.062 | 0.25 | 1500 |
| 0.156 | 0.047 | 0.25 | 1096 |
| 0.188 | 0.031 | 0.25 | 700 |
| 0.25 | 0.031 | 0.313 | 549 |
| 0.25 | 0.062 | 0.375 | 962 |
| 0.312 | 0.031 | 0.375 | 451 |
| 0.375 | 0.031 | 0.438 | 382 |
| 0.375 | 0.062 | 0.5 | 700 |
| 0.438 | 0.031 | 0.5 | 332 |
| 0.5 | 0.031 | 0.563 | 293 |
| 0.5 | 0.062 | 0.625 | 549 |
| 0.562 | 0.031 | 0.625 | 262 |
| 0.625 | 0.031 | 0.688 | 238 |
| 0.625 | 0.062 | 0.75 | 451 |
| 0.688 | 0.031 | 0.75 | 217 |
| 0.75 | 0.04 | 0.83 | 253 |
| 0.875 | 0.045 | 0.965 | 244 |
| 0.875 | 0.062 | 1 | 332 |
| 1 | 0.045 | 1.09 | 215 |
| 1.25 | 0.045 | 1.34 | 174 |
| 1.5 | 0.05 | 1.6 | 161 |